PLACES TO VISIT
Introduction
Callander is a perfect spot to start your explorations of The Trossachs and Southern Highlands. Here there is bed and breakfast accommodation, good shopping and plenty of places to eat and drink. For more details about Callander see the Callander Page and for Bed and Breakfast accommodation see the Lenymede Page. For details of opening times and tariffs for many tourist attractions see Opening Times and Tariffs.
Content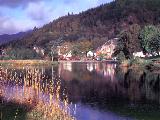 The Meadows offer a pleasant riverside stroll beside the Teith with adjacent parking. Footpaths run from the ancient castle mound and old cemetery along the river's edge to the confluence of the rivers Garbh Uisge (Leny) and Eas Gobhain. Keep your eyes open for feral mink, goldeneye, merganser, red-breasted goosander, little grebe, coots, cormorants, kingfishers, trout and salmon.
Following the river bank westwards leads to the what used to be the Oban railway line and is now a footpath and cycleway leading past the site of a Roman Fort and through the forested Leny Pass. Be sure to take the little footpath leading off right to the Leny Falls, which can be spectacular especially when in full spate. Just after the falls , where the railbed originally crossed over the river, a new footpath switchbacks gently close by the river through peaceful deciduous woods and on to Ben Ledi car park from which, if you wish you can make the ascent of Ben Ledi or continue along the shores of Loch Lubnaig to Strathyre.
This and many other Callander walks are described on the Walks around Callander Page.
Back to Page Contents
Situated in Ancaster Square in an elegant building previously a church, the Rob Roy Tourist Information Centre not only provides tourist information services, but also an excellent exhibition and audio visual show about Rob Roy. Real name Robert MacGregor (1671-1734), he was variously known as a clan leader, brigand, cattle trader and rustler. He would perhaps be seen in these days as a revolutionary. A member of the outlawed clan Gregor, his lands were confiscated in 1712 by the 1st Duke of Montrose and was imprisoned by the English in the 1720s. You may visit Rob Roy's Grave in Balqhuidder. Both Rob Roy and The Trossachs rose to wider fame in the 19th century as a result of his depiction as a national hero in the popular novel Rob Roy by Sir Walter Scott who visited the area. Contact telephone number : 01877 330 342.
OPEN
Weekends only during January to February
Mar to May & Oct to Dec
10.00 to 17.00
June & Sept
09.30 to 18.00
July & Aug
09.30 to 22.00
(Audio Visual & Exhibition)
09.00 to 19.00
Back to Page Contents
Just 1 mile from Callander visit the these Woollen Mills at Kilmahog where you can see a working loom and a 250 year old water wheel. The main product now is travel rugs and these together with many examples of traditional Scottish knitwear are available for purchase.
Back to Page Contents
Variously translated as the 'Bent Loch' and the 'Loch on the Bend' Loch Lubnaig is approximately 5 kms long and bounded on the east side by the A84 trunk road and on the west by the Callander - Strathyre footpath and cycleway. The eastern shore offers a number of attractive picnic spots with parking and easy access to the loch's edge. With the hills towering over the waters this can be a dramatic setting especially on an early morning when the still waters reflect the hills like a mirror.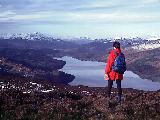 Easily reached on foot from Callander or drive to the car park on the Invertrossachs road and enjoy this lovely location. The A821 to Brig o'Turk offers several shoreside picnic sites with lovely views across the water to the Mentieth Hills.
Back to Page Contents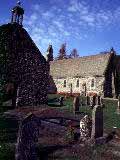 Situated in the grounds of Balquhidder Church, Rob Roy's Grave lies in a beautiful spot at the foot of Kirkton Glen and is only a short distance from Callander. As well as Rob Roy's grave, beside which lie the graves of his wife, son and brother, there are other interesting tombstones here as well as the ruins of the old church.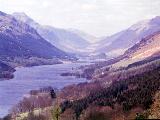 Continue up the valley for a beautiful drive along the shores of Loch Voil taking care since red squirrels may run across the road, and continue past the Hotel, good food, to Loch Doine. This is a wonderful piece of countryside. At the end of the road you may continue on foot to Inverlochlarig, the site of Rob Roy's house. Return the same way as you came.
Back to Page Contents
Just a few minutes from Balqhuidder Church you can find this fascinating museum situated in a typical Laird's mansion overlooking Loch Voil in the beautiful glen in which Rob Roy lived and died. This eclectic collection of everyday items includes household utensils, toys and curios from the past. There is a tearoom and gift shop.
Bygones Museum, Stronvar House, Balquhidder, FK19 8PB

Call 01877 384688, Fax 01877 384230
Availability :1st March - 31st October, 10.30 - 5.00 daily.

Unfortunately, this splendid collection of vintage, post vintage and classic cars, and motorcycles will close its doors permanently on the 31st October 1998. The hill climbing and other car weekend events will continue throughout the season during 1999, though the long term future is uncertain.
Back to Page Contents
This excellent castle, presently undergoing restoration work, was built in the 14th century for the Regent Albany. One of the many outstanding features of this castle its main hall Used in the filming of Monty Python and the Holy Grail, the castle has more recently featured in the BBC production of Ivanhoe. Only 8 miles from Callander this castle is my personal favourite and is really worth visiting.
Woodland and scattered ponds provide a small nature reserve with hides and a variety of trails. The walk may be extended into the surrounding countryside.
A very attractive cathedral, largely 13th century. Attractively situated above the Allan Water, along the banks of which is a pleasant walk accessible from the cathedral grounds.
Back to Page Contents
A museum of religious relics, including a 17th century death bell.
Cathedral Square, Dunblane
Call 01786 823 440
Open : May - October, Mon - Sat, 1000 - 1230 & 1400 - 1630
Cost : Free.
Back to Page Contents
A great place for the kids with all the usual animals, a petting area including Vietnamese Potbelly Pigs, llamas and sheep. The wild animals include elephants, tigers, giraffes, zebras, and new this year, white rhinos. Amusements include a great slide, adventure playground, pedalos on the lake, boat trips to Monkey Island, and an aerial glide. For those into barbecues and picnics there is a well equipped area available. Kennels are provided for pets and a Safari Bus for those without a hard top car. Scottish Tourist Board Commended.
Safari & Leisure Park,
Blair Drummond, Perthshire, FK9 4UR
Call 01786 841456, Fax 01786 841491
Open : 28th March - 5th October
Cost : Adults - £8, Children (3-14 inc.) and Senior Citizens - £4, Children under 3 free.
Location : 11 miles south of Callander on the A84.
Attractions include:
Included in Ticket Price
Wild Animal Reserves
Pet's Farm
Sea Lion's Show
Giant AstraGlide
Chimp Island & Wildfowl Sanctuary Cruise
Adventure Playground
Picnic & Barbecue Areas
Flying Fox
Pedal Boats
Other Attractions
Watering Hole Bar
Ranch Kitchen
Trading Post & boathouse Gift Shops
Face Painting
Amusement Arcade
Childrens' Rides
Dodgems
Chakula Grill
Another one for the kids with farm animals to pet including rabbits and sheep as well as pony and cart rides, and a walking trail. Interesting farming artefacts and illustration of dykeing.
Back to Page Contents
Standing at the edge of the Falls of Dochart the renovated St. Fillan's mill is complete with a restored water wheel and now houses a Folklore and Tourist Information Centre. Learn about life in the mountain territory known as Breadalbane or High Country of Scotland. See displays, videos, and artefacts about local history and wildlife. Learn about the clans, St. Fillan and the healing stones. As they say 'All this and more'. Open Daily April 1st to the end of October. Price £1 for adults, £0.75 for children and Seniors.
These falls at Killin provide a wonderful view especially when in spate, but when the water is lower enjoy a clamber over the harder rocks that caused their formation. Look out especially for the holes drilled deep into the rock by the action of water and pebbles. Enjoy lunch at the pub. Other waterfalls worth visiting are Leny Falls, Bracklinn Falls and Inversnaid Falls.
Back to Page Contents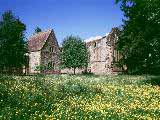 Situated about nine miles from Doune Castle on the larger of three islands in the Lake of Menteith, these ruins of a 13th century Augustinian Monastery provide an idyllic setting for a peaceful picnic which in the spring is full of daffodils, bluebells and rhododendrons. Take the small ferry from the Port of Menteith for the short trip to the island keeping a watchful eye out for some of the many birds that make the lake their home, including great-crested grebe, goldeneye, red-breasted merganser, tufted duck, mallards, geese, herons and swans.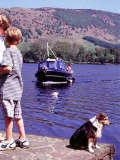 The priory was founded in 1238 and in 1547 was used as a safe haven from the English army by Mary, Queen of Scots. Though now in ruins there is still enough standing to give an impression of how the whole priory looked when it was in use.
When you have finished looking at the priory be sure to take a walk around the shoreline of the island. This tranquil walk takes less than twenty minutes and should not be missed. Particularly interesting are the wild flowers, ancient trees, and bird life and if you have sharp eyes you may be able to pick out the remains of a castle on the adjacent island.
Open April to September, Monday to Saturday 09:30 - 18:30 and Sunday 14:00 - 18:30. Admission including ferry rides is £2.80 for adults, £1.80 for Seniors and £1 for children.
Back to Page Contents
Historically The Trossachs are a small area defined by the peaks of Ben A'an and Ben Venue, and the Lochs Katrine and Achray. This beautiful area has much to offer in terms of beauty, peace and places of interest and Callander and Aberfoyle are placed right on its doorstep. For further, more detailed information on The Trossachs go to the Trossachs Page.
Back to Page Contents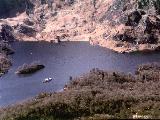 A trip to this lovely loch which can include a sail on the S.S. Sir Walter Scott should not be missed, this is such a serene location. This area is at the heart of Rob Roy country. Drive through Aberfoyle to visit at the other end of the loch and continue on to Loch Lomond.
Loch Katrine is 13 km. (8 mi.) long and less than 152 m (500 Ft.) deep. It was enlarged in 1859 to become the chief water supply for the city of Glasgow. The loch is noted for its beauty and celebrated in literature in The Lady of the Lake, the Romantic poem by the Scottish poet and novelist Sir Walter Scott. The village of Glengyle, at the south-eastern head of the lake, was the birthplace of the famous Scottish brigand Rob Roy.
Back to Page Contents
For further information on places to visit see the following pages:
Back to Page Contents
[ Home ]
[ Up ]
---
Home

Contents

Introduction

Callander

The Trossachs

Activities
Transport

Maps

Stirling

Edinburgh

Glasgow

Walks

Photography

Images
---
Send mail to webmaster@lenymede.demon.co.uk with questions or comments about this web site.
Copyright © 1998 Lenymede Bed and Breakfast