Welcome to Lenymede
Bed and Breakfast's
Guide to Callander and the Trossachs

| | |
| --- | --- |
| You are visiting the web site of Lenymede Bed and Breakfast, a Victorian house situated on the edge of the small Trossachs town of Callander, Scotland. The B&B is operated by my mother, Olive, and I run Associated Images, a small business that provides photographic services and workshops, web site design and PC support. | |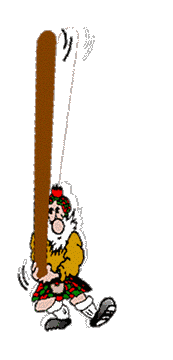 These pages contain tourist information about The Trossachs including places of to visit and activities available such as cycling, golf, fishing and walking as well as details about our Lenymede Bed and Breakfast, Activity Holidays and of Associated Images, which offers photographic workshops and services. Lenymede is located on the northern outskirts of Callander ideally situated for the visitor to the Southern Highlands and The Trossachs, home of Rob Roy, and the setting of several Sir Walter Scott's novels. I am a freelance photographer and if not busy elsewhere I am available for guided excursions. I hope you will find something of interest in these pages, and that you may be encouraged to visit Scotland and in particular the beautiful area of the Trossachs.
The nearby historic town of Stirling has much to offer the visitor, including the magnificent castle and many other interesting historic buildings as well as being the site of The Battle of Stirling Bridge at which Sir William Wallace achieved a great victory over the English as featured in the movie Braveheart. Edinburgh and Glasgow are within easy reach with fast road access to Lenymede Bed and Breakfast. Both cities have International Airports and major railway termini connecting to all major UK cities. If you visit our area we want you to enjoy it and return home safely at the end of your trip. This is a beautiful part of Scotland, but with your safety in mind we offer the following advice.

STAY SAFE
Although the area is relatively crime free, opportunistic thieves will take advantage of any opportunity, so do not leave valuables in cars especially when parked in isolated places or over night.
Remember the roads in this area are often narrow and twisty and oncoming traffic may be in the middle of the road. Take particular care especially when they are wet or icy.
If you intend to participate in water sports be sure to wear a life jacket. In the cold waters of Scotland even a strong swimmer can quickly get into difficulty.
Please watch out for cyclists and give sufficient room when passing. Remember also that slow moving farm vehicles and even cattle may be on the road.
If you intend to venture on the hills be properly equipped and do not continue if the weather deteriorates. Be sure to wear proper clothes and shoes and leave details of your route and expected time of return with a responsible person.
Help look after our countryside, it is a heritage that we all share. When out in the countryside keep dogs on a lead and close all gates. Take all litter home. Plastic bags, bottles, empty cans and discarded fishing line are potentially dangerous to both people, wildlife and livestock. Remember if you leave rubbish it can last a long time.
Back to the top
[ Home ]
[ Callander Town ]
[ The Trossachs ]
[ Local Transport ]
---
Home

Contents

B&B

Places

Activities

Maps
Stirling

Edinburgh

Glasgow

Photography

Image Gallery
---
Send mail to webmaster@lenymede.demon.co.uk with questions or comments about this web site.
Copyright © 1998 Lenymede Bed and Breakfast